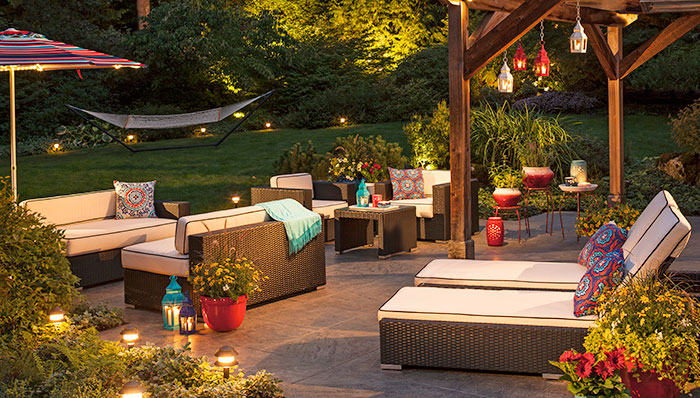 photo copyright: Lowe's
5 TIPS FOR CREATING A BEAUTIFUL AND USABLE OUTDOOR SPACE
LIGHTING
String lights and lanterns brighten up a space like no other. We love globe lights which look more modern and sophisticated than the smaller "Christmas" lights. Wrap them around trees and deck railings or hang from trellises and pergolas. You can create a setting perfect for both lively gatherings and a relaxing summer night.
OUTDOOR RUGS
Target has an amazing line of outdoor rugs, small to huge, that bring a ton of texture and color to an outdoor space. Don't be afraid to pick something with bright colors like orange, teal and pink!
OUTDOOR FURNITURE
Who doesn't love a comfy sectional and cushy ottoman to relax on and star gaze? We found that Costco has great options for less than you may think. But if you're on a budget, hammocks, standing swing chairs and cushioned patio and Adirondack chairs are wonderful, too! Don't forget decorative pillows… an easy way to accessorize that solid color furniture.
FLOWERS AND PLANTS
Flowers and plants are an easy way to make your outdoor space serene and colorful. There are plenty of options depending on how much sunlight exposure is available. Some favorites include geraniums which are super easy to care for, and sweet bay leaf trees which are easily potted and don't take up a lot of space.
FIRE PITS
If your outdoor living space is not indoors, fire pits are amazing for those sometimes cool spring and summer nights. Portable pits come in all shapes and sizes and are easy to store during the winter months. Gather your neighbors, family and friends and show off why your outdoor space is better than anyone else's!